Check out these Blues musicians, visit their websites, buy their CD's, and go hear them live!
Home | Featured Artists
Minus John - Minus John (formerly "Full Tilt") has performed together for several years. Its members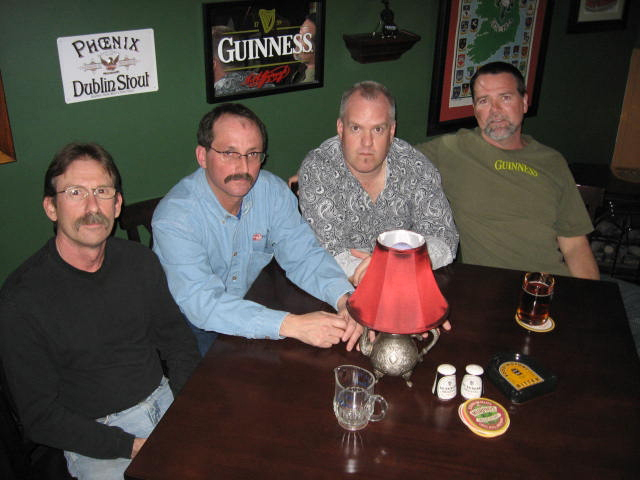 include: Jeff Wood- Guitar, Vocals, Harmonica; Jeff Hair- Drums, Vocals; Steve Glass- Bass; and Mike McKinney- Guitar, Vocals.
The recent addition of Steve Glass on bass has brought a fresh perspective to their sound and helped solidify their unique brand of hard-driving, bar room, blues-rock. Minus John has performed at numerous bars, nightclubs, festivals, and private parties in the central Virginia area and can easily fit in most venues. Demos and song lists are available on request and a web-site is forthcoming! For booking, contact Mike McKinney at (434)546-1643 or Jeff Wood at (434)525-0762. Experience Minus John Now!!!!!!
---


South 29 - Central VA - Formed in 2006, South29 has been performing in the Central - Southwestern Virginia area, providing their mix of Blues, Classic Rock and Funk to Clubs and private events. South29 has some familiar faces to those in the Central Virginia blues scene. Both Jason Ward, and Eric Hollandsworth are regional veterans, and Chase Tanner, just getting back into the scene after a 4 year absence, is a fixture at local blues jams.
Drummer Jason Ward brings 15 years of experience to the S29 rhythm section. Jason's most recent projects include The Chris Winter Band and two years of live performances with Eli Cook & The Red House Blues Band, playing every smoky bar from DC to Danville. He also contributed to the band placing 2nd in both 2004-2005 BLUES FEST Competitions hosted by the James River Blues Society and also appears on Eli's first recording effort, Moonshine Mojo.
Bassist Eric "Big E" Hollandsworth has performed and recorded with several regional acts, including Roadhouse, Eli Cook & The Redhouse Blues Band, Jacki B and the Backburners, and as of late, with the Rubs Tuesday Night Blues Jam anchor band John Doe and the Nobodies, and from Richmond, Kevin Selfe and the Tornadoes.
Chase Tanner has been touted by local and national blues acts as the "next up and comer" on the electric guitar. With a nod to past greats Vaughan, Clapton, Hendrix and an eye to the grandfathers of Blues Guitar, Chase's style has been called "a mixture of youthful exuberance and a soulfulness beyond his years." Chase has been a guest of John Doe and the Nobodies, and recently performed with the Jam Band the Tendencies in the Lynchburg/Bedford areas.
Cutting right through the heart of Virginia, South29 leaves its audiences awash in a simmering blend of blues, funk, and rock. A trio of classically trained and unchained musicians, South29 lays down tracks channeling the great power trios, with their own style of right-between-the-eyes riffs. Playing Roanoke, Lynchburg, Charlottesville and the surrounding areas, South29 will leave you wanting nothing but more.
Bookings, contact Peaksview Productions at - 800-792-9364 or email info@peaksviewproductions.com
Catch S29 live, visit their website at - www.south29.com
---
The Biscuit Rollers - Staunton, VA - The Biscuit Rollers was formed in early 2006 as an outlet for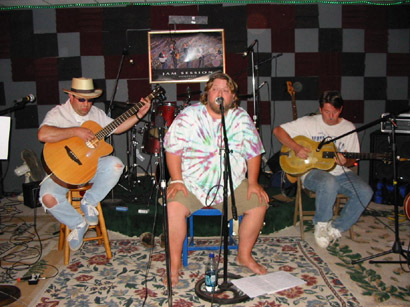 the creative energy of its members, who grew tired of playing in "just another cover band" bands. We are a three piece "Old Time Blues Music" band composed of Kelly Miller (vocals and percussion), Jack "Poor Boy" Roy (acoustic resonator guitar, lap steel, electric guitar, harp) and Chris Okay (acoustic and electric guitar, lap steel, acoustic bass, harp, backup vocals), and we are just breaking into the blues club scene. Our hope is that The Biscuit Rollers will be an avenue for keeping Old Time Blues Music alive for people that appreciate the music, and for bringing that uniquely
American roots music to life for a new generation of listeners.
We play a stripped down version of the Blues, with a truly unique hard-driving road house/juke joint sound. Our performances feature our own special arrangements of the fingerpickin blues of Robert Johnson, and Mississippi John Hurt, the electric blues of the music of John Lee Hooker, Howlin' Wolf, Muddy Waters, Elmore James, and other groundbreaking blues musicians, as well as more contemporary blues artists like Robert Cray, Tom Principato, The Fabulous Thunderbirds, and others.
Accomplished, mature, multitalented (and multi-instrumental!) musicians, we jam on these tunes, we get down, get loose, and get funky with Old Time Blues Music, making it groove with our own special concoction of rhythm, pace, and feeling. We figure, if you ain't dancing to it, we ain't doing our job -- Our music is true, made from scratch and tasty, just like your grandmother's flaky buttermilk biscuits! The Biscuit Rollers can be reached at 540-292-1798, to play at your club.
---